While Gmail templates are a great solution for marketers and business owners who are tired of writing the same emails over and over again, they are a pain to use on cell phones.
This leads to frustration and disappointment when sending emails on the go.
But not anymore!
Email Templates by cloudHQ is a Gmail extension that gives you access to a free library of 1000+ professionally-designed email templates directly through the Gmail app on your mobile device.
It also allows you to create new templates based on your design aesthetics or your company's branding using an intuitive email design creator and save them in a separate folder. Importing your favorite templates from Mailchimp is also an option, as well as sharing your templates with your team.
Learn more about these mobile Gmail Email Templates, take a look at the movie below:
View Email Template Library
Let's discover how to use Gmail Email Templates on mobile devices to upgrade your email marketing.
How to Use Gmail Email Templates on Your Mobile Phone
cloudHQ's Email Template software is user-friendly and packed with various features for mobile users.
Follow the steps below to start using it.
Step 1: Install Gmail Add-On
You must first install Gmail Add-on on your mobile phone to access Gmail Email Templates.
Go here and click "Install."
The downloading will start, and the Gmail Add-on will be installed in no time.
Step 2: Select Any Template You Like When Composing an Email
Open the Gmail app on your phone and click "Compose."
When a blank email draft appears, click on the three dots in the upper right corner.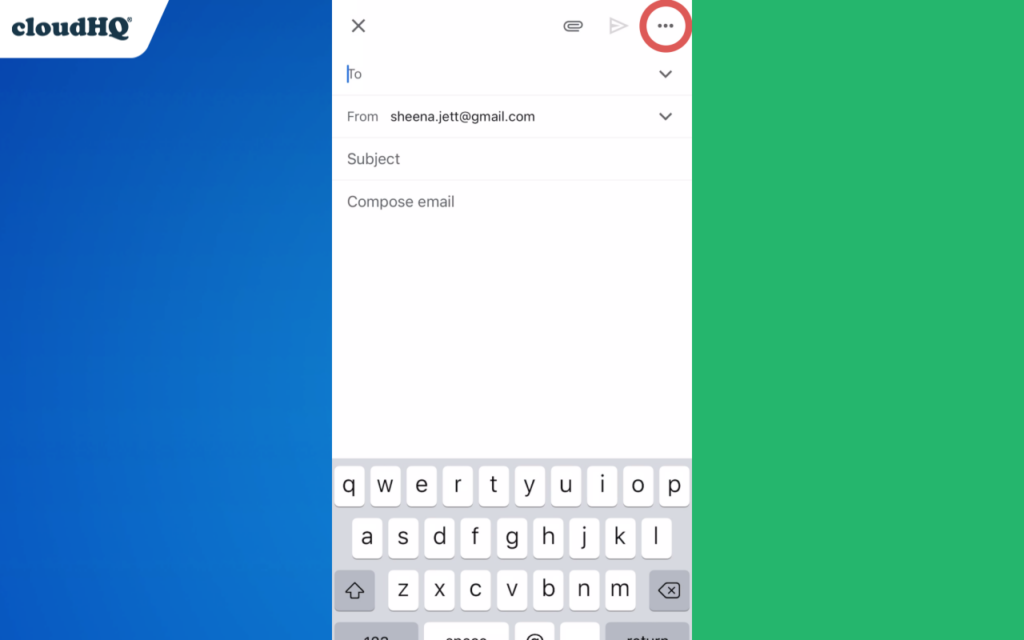 From the pop-up, choose "Insert from Templates by cloudHQ."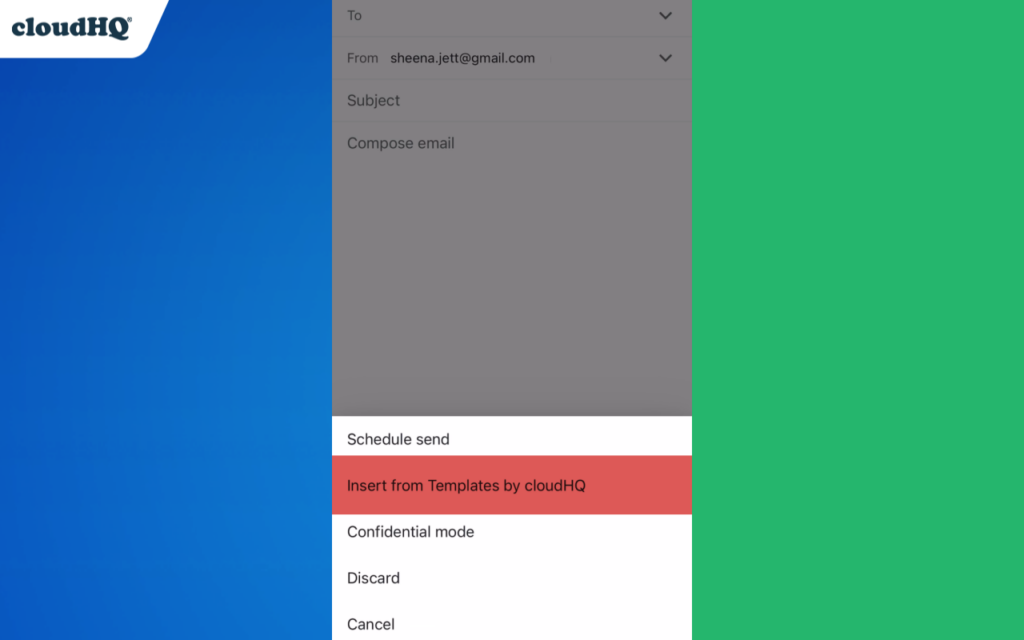 Next, go to the "Free Templates" tab and select any template you like. Under "My Templates," you will find those you or your team created.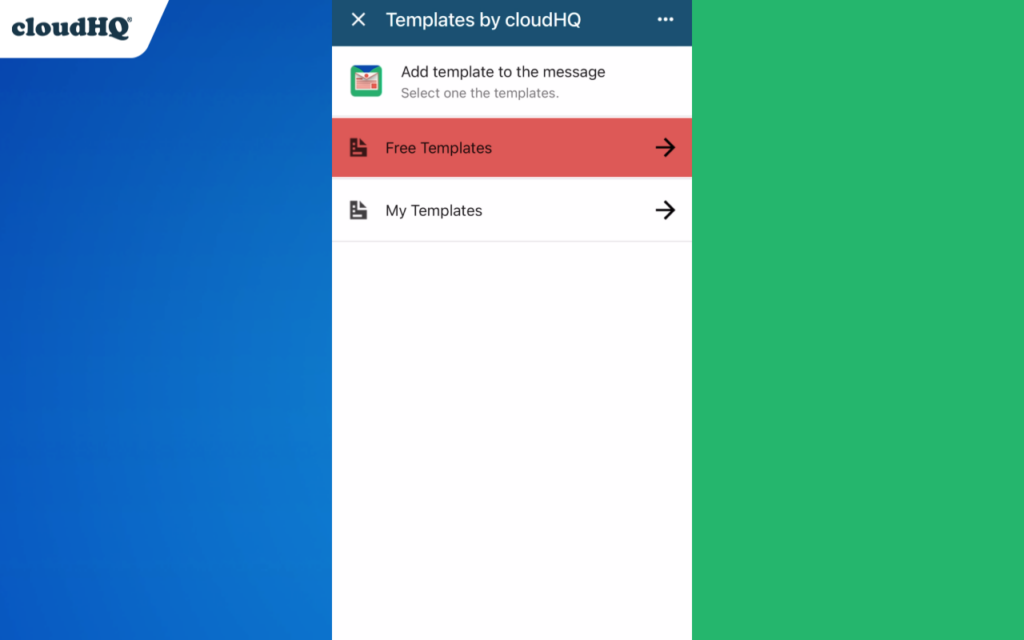 After choosing a template, you can customize your message before pressing "Send."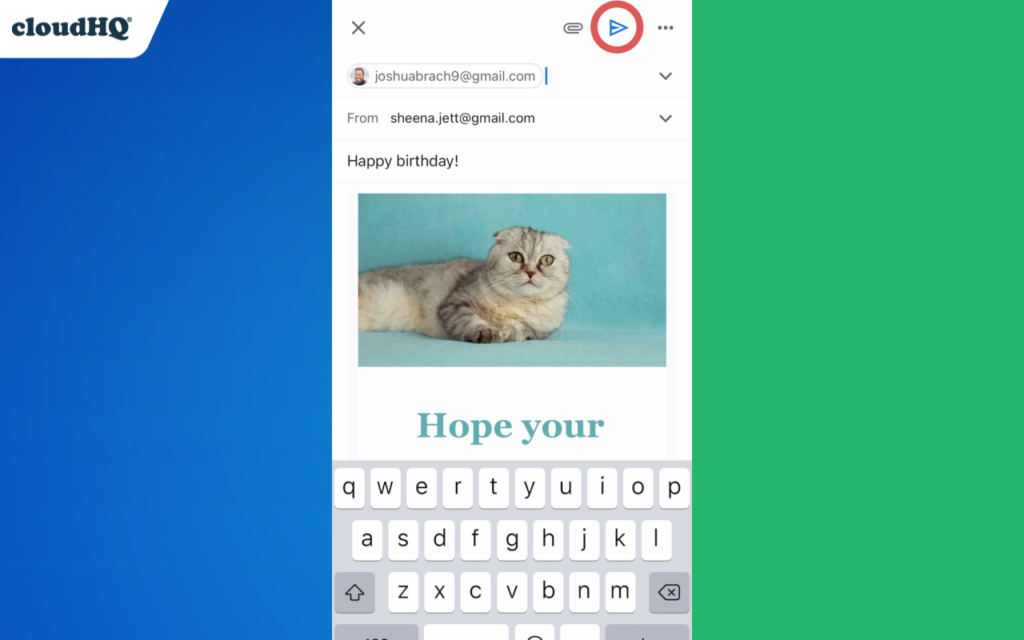 That's it.
You can send template-based emails to as many people as you like in so little time!
How to Create Your Own Email Templates
Follow the steps below to create and edit your email templates.
Go to cloudHQ dashboard.
Click "Gmail Email Templates."
Under the "Team Templates" tab, click "New Template" to create your own email template.
On the same screen, you will see all the templates you or your team have created. To edit any of them, hover over it and choose the first option (pencil icon).
You can also rename or delete the template by choosing the second and third options, respectively.
How to Create a Template from an Email You Received
cloudHQ's Gmail Email Templates allow you to copy an email you received, convert it into a template, and customize it based on your design aesthetics.
Follow the steps below:
Open your inbox on the Gmail app and click on any email you want to make a template of.
In the options bar, choose "Save To."
From the dropdown menu, click "Convert to Template." The conversion might take a few seconds.
Once done, your template library will appear on your screen. Select the newly converted template and click "Edit Template" to customize it.
A template editor will open as a pop-up on your screen. Tap "Source" in the upper left corner to edit the template in HTML. Alternatively, you can click the "Design" button to edit in an email.
When you're done editing, click on the Mobile or Desktop button in the top right corner of the screen to see how your template will look on a mobile phone vs. a desktop.
Once satisfied with the final look, click "Save and Close" in the top left corner of the window.
Your new template will be added to the library as well as in a Google Drive folder called Gmail Templates.
Final Words
Gmail Email Templates on mobile devices make life easier, not only for marketers and business owners but also anyone who wants to send invites or announcements to a group of people at once.
The template options are endless, from cold emails to advertisements, greeting cards, appointment reminders, newsletters, price lists, class syllabus, and job recruiting forms!
The free templates are professionally designed, but you can still create your own or take inspiration from emails in your inbox.
Want to learn more about Gmail Email Templates?
Click here to read relevant articles.